Hey! Here's what happened the next day.
He came BACK!
But this time, he behaved himself. Helping screen
the visitors and controlled the traffic at the entrance.

It was a busy morning.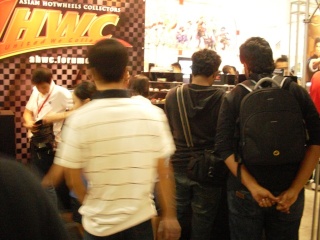 As noon approached, he went on to help at the exit.
It was getting a bit of a bore, no one wanted to leave.
He got so bored that he went flat on his face.

He then figured out why no one was leaving.
The visitors were too busy shopping!

Making his move. He stopped 3 girls that was
wondering around. "Where are your parents?"
he asked.

In his search, he came across a shark. He asked,
"Did you eat their parents?". "No!" replied the shark.

Maybe I can locate them online.
That didn't work and he went on looking at the
wrong places. "I think I saw something in the shadows"
he told himself.

He caught up with them but still no luck.
In a blink of an eye. Those shadows transformed into
kids. "Must be the Power Rangers! TuTT!!! TuTT!!! TuTT!!!".
He cursed.

Then some monkey showed up and tried to safe the
Power Rangers. He shot the poor fellow in the head
and went on his hunt for the parents.

Again looking at the wrong places.

For hours he looked high and low but to no success.
He got tired. It was getting late.

He was gonna go home. It was the end of MITF2011.
But he just had to do something mischievous.
He "Tar Pau-ed" the Ultraman home for target
practice he said.
The END.